Falkner Family
The Fa(u)lkner Family of Warmington
The name first appears in Warmington in 1665 and the last record is of a Sarah Faulkner who married a John Cox in 1824.
The Faulkners were millers, with some members of later generations following associated trades such as millwrights and bakers. Other family members were millers in the Cropredy and South Newington areas.
The Warmington windmill stood high above the village, close to the property now called High Croft. The last windmill, demolished soon after 1900, was a wooden post mill.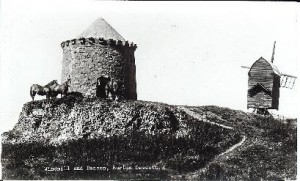 Pictured: Burton Dassett windmill, four miles from Warmington and similar to the one at the top of Warmington village.
Millers were in a unique position in the village community. Because the mill had to be constantly manned and had to be built where the wind was most favourable, the mill was built outside the village envelope.
Uriah Falkner (died 1705) married (1) Alice (died 1678 M.I), married (2) Ann (died 1693).
Children by Alice
(1) Mary born 1665, died 1665
(2) Elizabeth born 1666, died 1666/7
(3) Richard 1667-1737, miller, left will
(4) Mary c1668-1746, MI, mother of Mary Jarvis Falkener 1692-98 MI
(5) Uriah born 1670. Became miller at Slat Mill Cropredy. Killed by his mill 1739, Great Bourton Parish Register
(6) John born 1672 (no further mention in Warmington records)
(7) Elizabeth born 1673, married Edward Darvell, shepherd of Aylesbury.
Children by Ann
(1) Job born 1680
(2) Ellenore born 1687
Richard Falkner, miller of Warmington, 1667-1737, made a will in which he left property, including his windmill, to his brother Huriah (Uriah), an annuity to his sister Mary Falkner, five shillings to his married sister Elizabeth Darvell, and his house called the Bakehouse to his nephew John Falkner of Warmington. We cannot be certain of the parentage of this John, although he may be the son of the testators brother, John born 1672.
John Falkner, died in 1784 aged 87 according to his gravestone in Warmington. He was described as a bolting mill maker in his complicated will written in 1781 and proved on his death three years later. John married twice, having seven children by his first wife and four by his second.
John married (1) Anne (c1701-1770 MI), married (2) in 1771 Susanna Cheney (c1749-?)
Children of John and Anne
(1) Richard birthplace and date unknown. Believed to have died South Newington in 1808. Married Mary Berry of Warmington 1754. Had issue born in Warmington
(i) Anne 1755-1818
(ii) Richard baptised 1756 (probably married in Warmington in 1789 Ann Robinson. Richard then living at Aston-le-Walls, Northants)
(iii) Mary baptised 1757
(iv) Jane baptised 1759
(2) Elizabeth baptised 1729 married 1779 William Walton
(3) John baptised 1732 married 1754 Alice Edwards of Warmington had issue
(i) Anne baptised 1759
(ii) Alice baptised 1761
(4) Robert born c1733 died 1811. Will, yeoman. Married (1) in 1768 Phoebe Hitchcox of Banbury (c1750-1769). Married (2) in 1772 Frances Robinson (c1741-1809), MI.
Child of Robert and Phoebe
William 1769-1770
Children of Robert and Frances
(i) Phoebe 1772-1801 (MI)
(ii) Richard 1773-?
(iii) William 1775-1779 (MI)
(iv) Robert (also known as John) 1777-? He married Elizabeth Hirons of Wroxton (c1792-1813)
Child of Robert (John) and Elizabeth
Elizabeth baptised 1813
(v) Anne baptised 1778
(5) Edward ?-1740
(6) William 1739-?
(7) Ann baptised 1743, married 1770 John Hitchcox of Banbury
Children of John and Susanna
(1) Joseph baptised 1771
(2) Thomas baptised 1773
(3) Sarah baptised 1775
(4) Mary 1777-1779 MI
None resident by the 1841 census.