Significant Buildings
St Michael's Parish Church, Warmington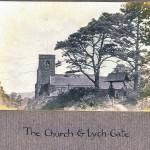 Warmington was already an established farming community when its assets were recorded in Domesday Book. Shortly afterwards, its Norman owner, the Earl of Warwick, gave the manor of Warmington to the Benedictine Abbey which his father had endowed in Normandy, St.Peter's at Preaux. Warmington was to remain in monastic hands, with one short break, for about 450 years. Monks were sent over from Preaux who built a small Priory. Its foundations were discovered when houses were built in Court Close in the 1950s. The Priory has disappeared, but the splendid church built under the monks' supervision, mainly in the early medieval period, remains. Read More…
Judd House, formerly known as The Homestead, School Lane, Warmington
This property has a rare distinction – it is possible to date it fairly precisely and to discover the name of its builder.
This stone and thatched house, with a fine barn on its eastern boundary, was built by Mathew Gascoign, a member of an old Warmington family for his own occupation. Mathew built it on Dovehouse Close, land which he had bought from the Collins family in 1667. Formerly the Close had been part of the Draper family's estate.
In 1694, the house, together with its farmland was sold in accordance with Mathew Gascoign's will by his daughter, Mrs Mary Shaw to Francis Batchelor, a shoemaker and farmer. Francis's son, John Batchelor sold the land to his brother-in-law Nathaniel Walton of Wormleighton around 1732, but the house, barn, and orchard descended from John to his sons Bonny, then Francis.  Francis was an unmarried man of Clerkenwell when he died in 1800. He bequeathed the Warmington house to his nephew, Simon Judd of Horley, son of his sister Rhoda.
From Simon Judd the house passed to Hannah Howkins who bequeathed a life interest in it in her will of 1822, to her nieces, and then absolutely to her great nephew Thomas Harbage. In the 1870s the house passed from the Harbages to the Stranks family. John Wright bought the house from the Stranks family around 1921, since when it has had a number of owners.
The present name "Judd House" is somewhat misleading, as the Judd family home was on the Green. William Judd, known as "Butcher Judd" because of his trade and to distinguish him from his long-lived father of the same name, tenanted the School Lane house from the Stranks family in the early years of the 20th century.
WOBBLY WHEEL
This public house on the B4100, formerly A41, lies five miles north of Banbury and on the road to Warwick. The old part, fronting the road, was built around 1800 or soon after. It was built to take advantage of the trade along the busy turnpike road which led, via Warwick, to the expanding industrial area of Birmingham. More