Wills & Inventories
Warmington Heritage Group has abstracts of 270 wills of former residents dating from the 16th to the 20th centuries. These will be inputted as time allows.
A Village Sale in 1713
Thomas Bennet was a yeoman farmer in Warmington and an elderly man in 1713 when he drew up his will (see abstract of his will, following). He had married, first, Mary Judd, who died at the age of 41, leaving two sons and three daughters (information from her gravestone). Mary was the daughter of another Warmington yeoman farmer, Richard Judd. The Judd homestead is at the south-west corner of the Green, now divided into the properties known as Sunny Cottage and Carpenter's Cottage. Thomas Bennet was assessed on three hearths in the Hearth Tax of 1670, the same number as his first father-in-law.
Thomas re-married late in life, his wife Martha being the widow of Richard Rose (died 1698), yet another of Warmington's yeoman farmers. Thomas's will mentions his wife Martha, two daughters of his first marriage and their husbands, and twelve grandchildren. It is probable that his other children predeceased him. His will left cash legacies to his widow and daughters, and appointed trustees to sell his real and personal estate to provide legacies equally distributed among the twelve grandchildren more
Will of John Englyssh, parish priest of Warmington, 1536/7 more
Will of Richard Pettipher, yeoman of Warmington more
Abstract of will and inventory of Thomas Gardener of Warmington 1547 more
George Thicknesse 1714-1790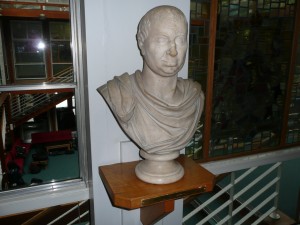 George Thicknesse, (pictured) who tenanted Arlescote House for the latter part of his life, was a very interesting character. A kindly and well-loved headmaster (high master) of St Paul's School, London, he retired on the grounds of ill-health to live in south Warwickshire. It is unclear whether his breakdown was physical, mental or spiritual – however his instructions for burial among the suicides and unbaptised are intriguing. more