War-time Warmington
A War-Time Wedding, 1941
John Neal's parents married during the second world war. The bride, Winnie, was the daughter of Mrs Wootton of Chapel Cottage and the groom, Fred Neal, was the son of Mr and Mrs Walter Neal of Manor Farm. Several Greetings Telegrams arrived on the happy day.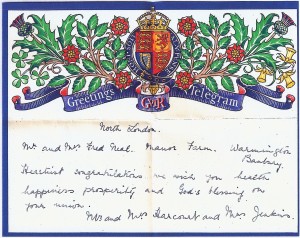 One of the telegrams
The wedding gifts, from relatives, Methodist and Anglican friends and from many, many people in the village are redolent of their period. Typically too the donors are listed by title, for example Mr and Mrs, rather than by Christian names. In the attached list villagers are marked (v). The bride later related that 'the whole village' chipped in from their ration books to provide for the wedding
reception in the village hall.
The Wedding Gifts
Clock, Mum – Granny Wootton (Winnie's mother)
Chairs, Mum – Granny Neal (Fred's mother)
Pig, Dad – Fred's father
Tablecloth, Nellie – Winnie's sister
Bolster Slips, Rene – Margaret, Winnie's sister
Tea Service, Dorothy – Winnie's sister
Companion Set, Granny – Granny Ward from Brackley (Winnie's grandmother)
Tablecloth, Auntie Jinnie, Annie – Winnie's aunts from Brackley
Towel, Auntie Edie – from Banbury
Household Linen, Auntie Lizzie (Wootton)- Winnie's aunt from Hastings
Table Mats, Una – Winnie's cousin from Hastings
Sheets, Mrs Eden  (v)
Spoons, George Eden  (v)
Tea Cosy, Ethel Jarvis  (v)
Tablecloth, Tea Serviettes, Miss Freeman  (v)
Money, Mr Freeman  (v)
Set of Jugs, Mrs J Haynes  (v) (wife of Joe Haynes)
Tea and egg cosy covers, Mrs H Haynes  (v)
Cake stand, Mr and Mrs J Gardner – Mr Gardner was a stone mason from Hornton.  Helped W.E. Neal (Fred's father) rebuild cowsheds at Manor Farm
Table Knives, Mrs Nock
"
"         Miss Milner
Set of Carvers, Mrs Jobson  (v)
Desert Forks, Miss H Watson  (v)
Clothes Brush Stand, Auntie Lily – Fred's aunt
Tablecloth, Phyliss – husband Ernie (Fred's cousin) killed during the war.
Preserves, Edie – (Welford) – Fred's cousin
Apples, Will – (Welford) – Fred's cousin
Treasury Note, Mrs Phillips  (v)
Teapot, Mrs E Taylor  (v) – lived in Chapel Street
Dinner Service, Uncle Fred – Fred's uncle, farmed at Brearley
Tea Strainer, Mrs Neill – school teacher with evacuees from Coventry
Glass Dish, Mrs Furber  (v) – Miss Freeman's sister
Money, Spoons, Mrs Seage  (v) – lived at Glen Farm
Tea Cosy Cover, Towels, Uncle Jim – Winnie's uncle from Farnborough
Tray, Mrs Truss – Hilda, daughter of Mr. And Mrs. Seage of Glen Farm
Glass Jug, Mrs Bull  (v)
Marmalade Pot, Mrs Franklin  (v)
Butter Dish, Louie Timms  (v)
Butter Dish, Mrs Taylor  (v)
Cruet, Miss Morris  (v) – school teacher from Warmington
Tea Service, Miss Dumoloc – Mrs Hadland's sister (Winnie worked as a maid for Hadlands)
Eiderdown, Bedspread, Mrs H and Jane – Mrs Hadland (Winnie's employer) and her daughter
Treasury Note, Mr Hadland
Tablecloth, Mr Williams  – colporteur – well known for his Christian book stall at Banbury market
Tablecloth, Miss Milner
Set of Kitchen Tins, Ethel Cleaver  (v)
Tea Cloth, Mrs C Castle  (v) – Bernard Castle's mother
Oak Table, Kath. Frank – (Daniels) – Fred's cousin and his wife, lived at Hall Green, Birmingham
Jam Dish, Cousin Mable
Pyrex Dishes, Mr Mrs Harriss – assume friends of Walter Neal from Henney St., Birmingham
Cheque and silver, Mrs Jenkins – Fred's mother was a lady's companion to the Misses Jenkins before her marriage to Fred's father.
Hearthrug, Misses Jenkins
Electric Iron, Mrs Ellis Senior – farmers at Gaydon, friends of Walter Neal
Scroll, Mrs N Ellis – Norman Ellis farmed at Northend, father of Ridley Ellis
Tea Knives, Auntie Annie – (Walton) – Fred's cousin farmed at Winderton
Fruit Set, Dan and Michael– (Walton) – Fred's cousins farmed at Winderton
Tea Service, Mr and Mrs R Ellis – Ray Ellis, best man at wedding, was a farmer at Chacombe and Thorpe Mandeville in the 1950s/1960s
Cruet, Mrs Parry
Cruet, Mrs Mayo
Cheque, Rev Bateson – superintendent of the Banbury Methodist circuit, conducted the wedding
Treasury Notes, Auntie Fan – Fred's aunt from Stratford-upon-Avon
Tablecloth, Rev Mrs Simpson  (v) – lived at the Rectory, Warmington
Tablecloth, Uncle Arthur – Winnie's uncle from Northampton
Jam Dish, Mr J Griffin – assume farmer – cattle and horse dealer
Teapot, Hot Water Jug, Uncle Peter – brother of Granny Neal – farmer and Methodist local preacher on Stratford-upon-Avon circuit for 60 years
Picture, Mr and Mrs Coles  (v) – managed the shop and post office at Warmington
Fruit Set, Mrs Bachelor  (v)
Hymn Books, Rev Mrs Brackenbury – Cliff College evangelist, retired to Kings Sutton
Electric Fire, Mr Wells
Cushion Covers, Mr and Mrs C Ellis
Barometer, Mr Smith, Mr C Ellis
Teapot Stand and Strainer, Mrs W Walton – Fred's cousin, farmer from Dorsington
Book, Miss Fry
Treasury Note, Mr Hughes
Tablecloth, Joan, David, Rosemary
Sheets, Mr Mulveen
Bread Board, Florrie – Winnie's sister
Tea Knives, George – Winnie's brother
Forks (dinner), Fred – Winnie's brother
Burmese bowl, Nora – (Hazelwood), a school friend of Winnie's, later Nora Hicks
Winnie's two sisters, Margaret and Dorothy, bought her the wedding dress as a present, to enable her to have a white wedding.  Dorothy bought it at Leicester when she was on holiday as she and Winnie were about the same size.  She was delighted with it and it fitted her perfectly. (The dress was later used by her sister Margaret for her wedding.)
The headdress and veil were borrowed from her sister-in-law, Elsie, (George's wife).
The journey to Weston-super-mare for their honeymoon wasn't easy as all signposts had been removed!
Their first home was at what is now known as 'Little Dene', Warmington.